TechnoKids has updated TechnoPhotoshop for the LATEST version of Photoshop CC.
TechnoKids Inc. has just released TechnoPhotoshop CC. In this technology project, students create a digital scrapbook using Photoshop CC. To start, students learn how to use a camera to take high-quality photographs. Once a library of images has been established, the program Photoshop CC is used to transform the pictures into scrapbook pages.
Following illustrated instructions, students experiment with photo editing tools to discover how to filter, warp, retouch, recolor, crop, and superimpose images. Detailed instructions make learning Photoshop tools easy.
There are three options for sharing the scrapbook pages. The projects can be assembled into a Web Gallery – this requires a free Adobe Output Module in Bridge CC, Adobe Presentation, or a Contact Sheet.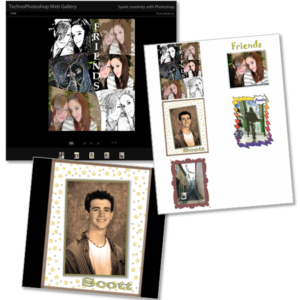 TechnoPhotoshop includes a teacher guide, workbook, and customizable resources.
Step by step instructions in the Photoshop lessons are ideal for middle or high school students. Include the lesson plans as part of a media arts, yearbook, web design or photography unit or course.
Creating with Photoshop is fun. Photoshop lessons teach middle or high school students how to:
apply filter effects
retouch imperfections
adjust color
superimpose images
bend text to a path
style layers
paint and draw shapes
capture high-quality photos
Learn more about TechnoPhotoshop CC.