Blender Tip #1: View Thumbnails
Here's an easy way to simplify video editing in Blender. It will help you to see your video shots clearly and identify changes that you want to make. The trick is to turn those solid bars of video into actual thumbnails of the frames!
In my previous post, I encouraged teachers who want to teach video editing to try Blender. As a free, open-source program available online to download, Blender is mainly a 3D animation and modelling program. But it also contains a very comprehensive video editor as well. This is a great replacement for Movie Maker, which is no longer available. Just like Movie Maker, middle and high school students can use Blender to build video production skills. It is available in many versions, so it is ideal for students to load on almost any device. Using tablets and smartphones, they are free to leave the classroom and record in any environment that suits the assignment.
The magic happens when they load their recorded video shots into Blender and use the many video editing tools to create a one-of-a-kind project.
By default, the video shots on Blender's timeline, called the Video Sequencer, appear as blue bars. The sound that is associated with each shot appears as an aqua bar.
To see the content of the different shots, as in Movie Maker, it is much easier to see the video as a set of thumbnails. Now you can recognize what is in each shot. This avoids the extra step of dragging the Playhead to the current shot and seeing it in the Preview pane.
Here's how to get the thumbnail view:
Click the Sequencer Overlays arrow.
Place a check in Thumbnails.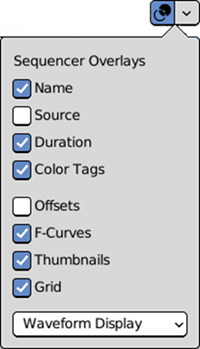 While you are making your selections, you may also want to set the following to simplify video editing:
Remove the check from Source. You likely know the file location, and it simplifies the strips.
Click the Waveform Display arrow and check Waveforms On. This gives a visual representation of the sound (if there is any) associated with each strip and may help with sound editing.
Simplify Video Editing with TechnoAd
Check out TechnoAd. This project shows students how to recognize marketing techniques used in commercials. They apply this knowledge as they produce a short digital ad of their own using Blender. And best of all, students need no previous experience with video editing or Blender. Students gain critical media literacy as they develop skills in video production.
Be on the lookout for my next post – Blender Tip #2: Picture in Picture.