Empower learners in K-12 schools with engaging artificial intelligence (AI) lessons for kids.
Artificial intelligence for kids curriculum fosters imaginative thinking and an innovative mindset. Cutting-edge technology applies AI to make our lives easier. It also promotes an active interest in technology for kids, preparing them for an AI-powered world in the future.
Teaching Artificial Intelligence for Kids
As a part of a Computer Science or STEM curriculum, artificial intelligence for kids can inspire confidence and develop an innovative mindset. Spark an interest in artificial intelligence lessons with TechnoBot AI project-based learning.
AI Is Beneficial
To start, the TechnoBot AI project has students explore and recognize how AI already makes it possible for machines to handle complex tasks, such as mapping routes, building cars, or predicting weather. AI also makes jobs safer, as machines replace people doing dangerous tasks like mining and lifting heavy objects. This allows people to work on other tasks that require judgement, ingenuity, and creativity.
Middle School Project to Teach AI
Hands on learning is an impactful way to introduce the power of AI. Next in the TechnoBot AI project, students use Scratch to build AI prototypes to solve everyday problems. They design a drone delivery system, robot pickup service, and self-driving tour. Project-based learning also builds essential life skills such as collaborative engagement, problem-solving, critical thinking, and creativity.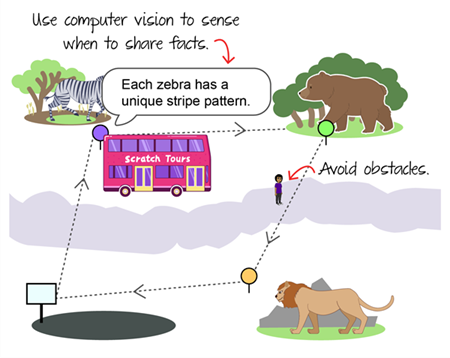 TechnoBot AI artificial intelligence lessons for middle school build essential skills:
digital citizenship through interaction with the online Scratch community
soft skills such as logic and persistence that are needed to test a program and debug code
programming techniques such as loops, variables, operators, and controlling action with sensors
tackling real-world challenges of proposing an idea and seeking feedback from a peer group
Preparing Students for Careers of Tomorrow
As educators, we want kids to be well prepared for the future. TechnoBot AI lessons build a strong foundation in programming. These skills will likely be in high demand in data analytics, software engineering, robotics, machine learning, and many more. As well, the design of AI prototypes develops innovative thinking. Students who envision creative solutions to today's problems may be inventing AI-powered tools tomorrow.