Not sure how to draw? You can trace images in photographs to create cartoons using Google Slides. Try it!
Create a new presentation in Google Slides. Rename it trace.
If asked to pick a theme, pick Simple Light. Click OK.
Click Layout. Pick Blank.
Add a picture as a background to lock the image you will trace:
a. Click Background. Beside Image, click Choose.

b. Click Search. Find a simple photograph that you can trace.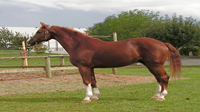 Click the Select line arrow . Pick Curve or Polyline.
Click around the shape of the object to trace it. TIP: Do not click on the same spot twice!
Make the other shapes and adjust the object order. Add details to make it look great!
Click Background. Click Reset to remove it.
To save it as a picture, select Download as from the File menu. Pick JPEG.
This is the "Trace a Photo to Make a Cartoon" Extension Activity from the TechnoGallery technology project. Check out the project to see how young students can use digital art tools to create a gallery of fun, original masterpieces.