With distance learning during COVID being our reality, making sure your students can complete tasks is not without its challenges. For the foreseeable future remote learning is essential. Which device a student has available to them at home may be out of your control. If your students are using TechnoKids and iPads, they will still need to be able to annotate the workbook assignments and submit them. TechnoKids' resources can be used with an iPad. See iPads and TechnoKids Projects to read more about which TechnoKids titles to pick for use on an iPad.
Not all PDF editors are the same. When selecting one, an important consideration is that it must open and annotate a secured TechnoKids PDF document. Typically, we recommend using either XODO and Kami to type answers into a TechnoKids worksheet. These apps are a viable option for both desktop and Chromebooks users. However, XODO does not work well with TechnoKids and iPads. Read my review below to learn more.
XODO PDF Reader & Annotator
XODO is a fantastic application. I was hoping that I could get it to work with an iPad. However, I encountered lots of frustration.
First, I thought I could add Google Chrome to my iPad and add the extension for XODO just like desktop or Chromebook users can do. However, extensions are not available for the iPad. This was a disappointing discovery.
Next, I checked out the App store and installed the PDF Reader & Annotator by Xodo. I found that I could open and markup a TechnoKids PDF file, but the file needed to be available either On My iPad, from iCloud Drive, or OneDrive. Google Drive did not seem to be an option. If your students are working with Google Classroom, or sharing assignments through Google Drive, you will find XODO limiting.
Not willing to give up completely, I visited xodo.com and signed in (free registration). I then opted to retrieve a document from my Google Drive. This resulted in a Network failure error. I was unable to resolve this.
In my opinion, XODO was not a viable option for annotating TechnoKids PDF documents on the iPad. If you're fine with moving files all around the device and not working directly with Google Drive, then the App may still work. Maybe as an adult this is doable, but for the average K-8 student, it is not an easy-to-use option.
Kami Your Digital Classroom Hero – Recommended
Kami is a PDF editor TechnoKids has been recommending for many years. It has annotation tools that make it simple to type answers into worksheets. For desktop or Chromebook users, Kami has an extension for the Chrome browser that works well. Unfortunately, extensions are not available on the iPad.
I could not find Kami in the App store. So, I opened my browser and visited kamiapp.com and signed in (free registration). From there I was able to tap OPEN FROM GOOGLE DRIVE. I did need to sign into my Google account again and give Kami permission to read my files. I could then easily get to my Google Drive files and open the desired TechnoKids PDF assignment.
Using the Markup highlighter, I could emphasize important text that I might need to refer to again later. I could fill in the blanks or make my own notes using the Text Box tool. I could even use the Drawing tool to write on the page using my stylus. I was able to move these things around the page or remove them with the Eraser.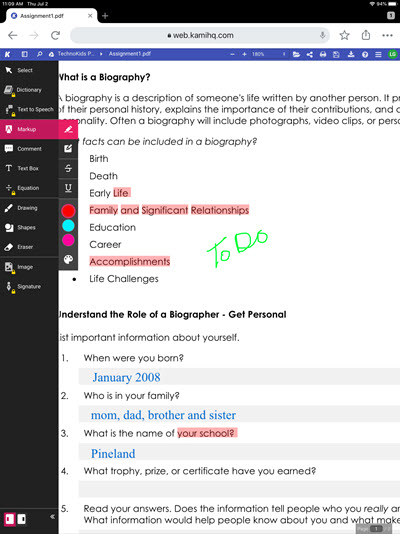 Saving and Sharing with TechnoKids and iPads
When I was finished, I was able to save the changes back to Google Drive directly from Kami. Keep in mind, that in order to continue working on the file you would need to reopen from Kami. When ready to submit your work, you have 2 options:
You can upload the document to your Kami account and then share with a link.
If you use the Google Drive App, you can display your files and share without having to open the file first.
The person receiving the file then has 2 options as well, they can view the annotations simply when previewing the file, or they can choose to open it in Kami as well to add their own comments.
Can annotations be seen in Google Drive?
When I went back to open my assignment directly from Google Drive, the document opens in preview mode. It showed all the annotations that I had made. However, in order to continue working on the document it still needs to be opened through the Kami website.
Is Kami Free?
Yes and no. I was using the free version and was able to highlight, comment, add text, draw, add shapes, and erase anything I had done. I could save the changes I had made and even share the file. Some features, like inserting images, adding a signature, equations, accessing the dictionary, or text to speech come with the paid version. According to their website, the Teacher Plan is a yearly fee that supports 150 students and includes these additional features. School/district pricing is also available.
TechnoKids and iPads – Our Recommendation
In my opinion, Kami is a suitable option for annotating a TechnoKids PDF worksheet on an iPad. Students can type in their answers and submit the file to their teacher. It is a PDF editor that works with any device. Kami, TechnoKids and iPads are a powerful combination to make distance learning succeed.