Do you need teaching ideas for when you take your students into the computer lab? Great news! TechnoKids Inc. has free computer lessons for kids in grades K-12. Download them today!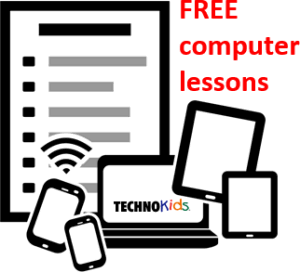 UPDATE: TechnoKids has free lessons for Google Docs, Office 2016, and Office Online.
Each month TechnoKids Inc. will send you a free computer lesson. The lessons are for Office 2013, Office 2010, and Office 2007.
There's lots of variety! You will receive lessons that use Microsoft Word, Excel, PowerPoint, Publisher, and more!
The lessons easily integrate into your curriculum. Use them to as a way to infuse technology into language arts, social studies, science, or mathematics.
Each month you will be pleased when your latest lesson arrives in your Inbox. There are a range of topics! Save the files and use them to teach students about the environment, entrepreneurship, Internet safety, and more!
Receiving Free Computer Lessons for Kids is Easy!

Watch the video to see how simple it is to download the assignments and resources. This short 30 second clip will answer all your questions.
The lessons are for K-12 teachers. Some monthly lessons will best be suited to primary children, others for middle school, and still others for high school. Download the lessons that are a perfect fit for your students.
Sign up today, to receive your free computer lessons for kids in grades K-12. Please note, you can unsubscribe at any time.